Classic Range

Our Wood Plastic Composite (WPC) Rinato Classic solid core boards are double-sided, with a natural-looking woodgrain on one side, and a traditional grooved effect on the other. FSC® certified solid composite deck boards are made from a combination of 60% recycled eucalyptus wood and 40% recycled polyethylene, making it a greener option for your garden. As well as being environmentally friendly, all our decking is maintenance free, it is incredibly durable and will remain so for years to come, and thanks to its composite properties, it is suitable for a variety of outdoor uses. These solid deck boards are great for areas of high footfall or weight, such as under a hot tub or any commercial application. Just like wood, our WPC decking looks and feels incredibly natural with a consistent colour and texture. And, as the composite runs through the whole board, it is incredibly easy to sand. Whichever way you use it, Rinato Classic decking looks really natural and will complement any outdoor space.
For more information Click Here
Fixings
Starter clips are used to start a run of deck boards, we recommend 10 starter clips per perimeter/starter board.  These are supplied in packs of 1n0 with screws. Plastic double clips will give a 7mm gap between deck boards. These are supplied in packs of 100 with screws and we recommend 9 double clips per board length.


Screwdriver bit
50mm long T15 Torx head screwdriver bit.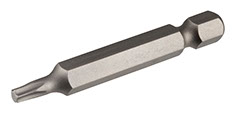 Deck board measurements
thickness 25mm | width 150mm | length 3600mm
1.85 boards per square metre
Weight: 8.4 kg per linear metre (+/- 0.05%)
Temperature range: -30C to 55C
Maximum span: 400mm centres
Warranty
For peace of mind, Rinato Classic comes with a 25 year UK based warranty.