Premium Range
Our Premium solid core boards have a smooth finish and are particularly suitable for use around pools. They are extremely durable, stylish, weatherproof, and made from recycled household Polymer, meaning virtually no maintenance is needed.
Rinato Premium is also suitable for balconies where the gaps between the boards can be closed using our double fixing clips.
For more information Click Here
Fixings
Fixing kits come supplied with everything needed to fix deck and fascia boards. The nylon clips & screw heads have also been colour matched to deck board. Each kit includes; 100 nylon clips & screws, 7 end/start clips & screws, 12 stainless steel plates & screws, 12 fixing screws, 20 fascia board screws. These will give a 9mm gap between deck boards. One fixing kit includes enough fixings for 5 square metres of deck boards and associated fascia boards.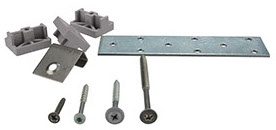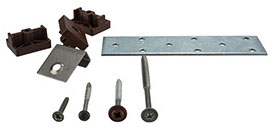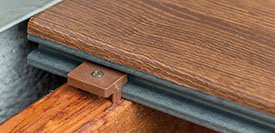 Alternative hidden clips
Double clips will give a 1mm gap between deck boards. Starter clips are supplied in packs of 10 with screws. Double clips are supplied in packs of 50 with screws. 50 clips will do an average of 2.5 square metres of deck boards.

Screwdriver bit
50mm long T15 Torx head screwdriver bit.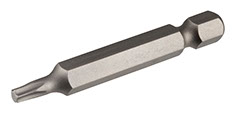 Deck board measurements
thickness 32mm | width 142mm | length 3000mm
2.25 boards per square metre
Weight: 3.5 kg per linear metre (+/- 0.05%)
Temperature range: -50C to +60C
Maximum span: 400mm centres
Warranty
For peace of mind, Rinato Premium deck boards are supplied with a 25 year UK based warranty.